Keto For Sure is a Blog maintained by Santhosh R, Health and Wellness Coach. You will find low calorie recipes, general health tips, keto lifestyle related blogs here.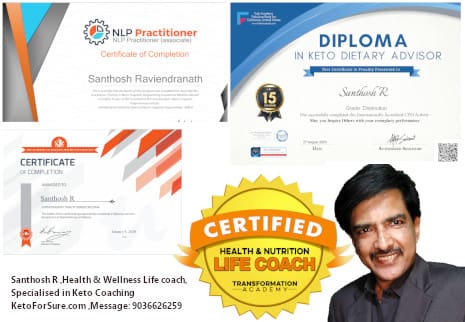 Hi , Welcome to Keto For Sure! I have been helping lots of people with blogging, personal coaching and YouTube videos via our channel for living healthy life style. Before becoming a full time health and wellness coach, I was an IT professional and understand the stress and lifestyle of corporate employees. In 2019 and I transformed myself to healthy lifestyle and since then have shared my transformational journey to encourage others live healthy too.
Santhosh R, Health and Wellness Coach.
Keto For Sure also maintains Malayalam Vlogs on YouTube , Click for Malayalam Keto For Sure- YouTube Channel .
Disclaimer & warning:  Keto diet and Keto life style should not be practiced without medical supervision especially for people with predisposed illness and medical conditions.
The blogs and tips in this website are solely for Keto Diet goers who are practicing keto diet with aid of a registered medical practitioner.
The content in Keto For Sure are purely general informational purpose only and should not be taken as a substitute for professional or medical advice.
What if the thing I want isn't on your site?
Email or tweet at us to let us know if you need to figure out a problem in our Website. Our staff—made of smart and curious people who love to investigate reader questions—may be able to help.